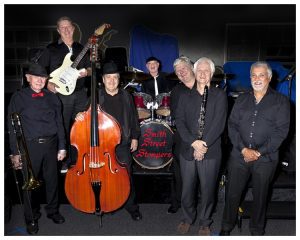 It was recognised within the Big Band, that forming a smaller ensemble with an interest in playing and performing Dixieland style jazz was a possibility.
Dixieland, sometimes referred to as traditional jazz, is a style of jazz based on the music that developed in New Orleans at the start of the 20th century. The definitive Dixieland sound is created when one instrument (usually the trumpet) plays the melody and the other instruments of the "front line" improvise around that melody. This creates a more polyphonic (having two or more parts, each with an independent melody, but all harmonising) sound than the arranged ensemble playing of the big band sound.
In 2019/20 a group got together to see if it was workable. Official status as a part of Redlands City Bands was granted and the "Smith Street Stompers" was born.
The group, of around 10 members, including a vocalist, rehearses on a Monday night from 5-30pm till 7pm. Players are generally drawn from the Big Band.
Being a smaller ensemble, the group is suitable for functions, birthdays, parties and general public performance where the style of jazz is sought.
The group is available for hire.