On 8th February 1984, the Redland Shire Band was formed with Shire Chairman Merv Genrich as patron. Rehearsals were held in the Edgar Harley Hall in Long Street Cleveland. This brass band of 20 members played in its first public concert on 23rd November 1984 under the direction of Perry Axford.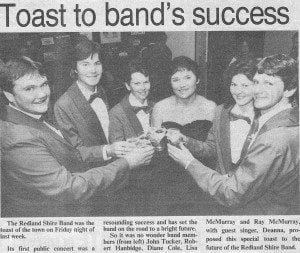 Concert Flyer November 1984
Concert Flyer-23rd Nov 1984
---
And in 1985 won its first competition in the "C" Grade at the Runaway Bay
Championships and came second in Marching and Drill in Nambour.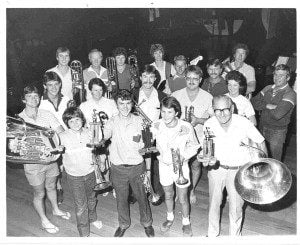 Concert Flyer August 1985
Concert Flyer-9th Aug 1985
---
Concert Flyer-1th 6May 1986 
Concert Flyer-7th Nov 1986
---
On 17th November 1987 a Concert Band was formed to provide band experience for the growing number of woodwind players coming through the schools.
Concert Program-3rd April 1987
---
On 8th February 1989, the band organisation became an incorporated company. In 1989 we chose Mary Gilbert as our first Honorary Member and since then a further 15 names have been engraved on the Honor Board.
---
By 1995, the Beginner Band, Wind Ensemble, Big Band and Inaccord had been formed providing players the opportunity to play in bands of varying degrees of difficulty and styles.
---
In 1999, the band first participated in Anzac Day ceremonies. This tradition continues to this day.
---
In 2002, we went to Stanthorpe and participated in our first Apple and Grape Festival.
---
In 2003, the Swing Band was formed.
---
We turned 20 in 2004 and our Special Anniversary Concert saw the reformation of the original Brass Band and conductor.
---
In 2006 Concert Band won 3rd place in the Open B Grade section at the National Band Championships.
---
On 6 March 2008 our name changed to Redland City Bands Inc. in line with the upgrading of the Local Authority Status and a new Constitution was developed.
---
In 2008 both Concert Band and Wind Ensemble competed in the same section of the Redlands Eisteddfod placing first and second respectively. During 2008 we held our rehearsals at the Lions Club whilst the Edgar Harley Hall was relocated to Smith Street Cleveland and refurbished. We then had much more space for rehearsals, music library storage and office equipment.
---
In 2009 we turned 25 and celebrated in style with an anniversary dinner at the Redlands Sporting Club.
---
In 2013 the Jazz Improvisation Group was formed to give members the opportunity to improve their musical skills and solo playing. In 2013 and 2014 we were successful in receiving $34,233 with two Grant applications to the Qld Govt Gaming Fund enabling us to purchase portable staging and new music stands with lights. We were also successful with two grant applications of $3000 each to the Redland City Council enabling us to purchase a trophy cabinet and extra seating, and also to engage a planning facilitator to allow us to develop our first Strategic Plan.
---
In 2014 Wind Ensemble won the Open D Grade Concert Section of the National Band Championships receiving most points for all four categories of Hymn, Test Piece, Own Choice and Stage March. In 2014 we have 91 members in our seven bands.
In 2015 we were successful with three grant applications: two from the Redlands Foundation for a total of $2035 to purchase extra percussion equipment and $3000 from the Redland City Council to purchase a new colour photocopier.
In 2019 we celebrated 35 Years of making music in the Redlands with a It's a Wrap Concert and with the publication of a 35th Anniversary Magazine 1984 – 2019